Why is Quality Important?
Why is Quality Important?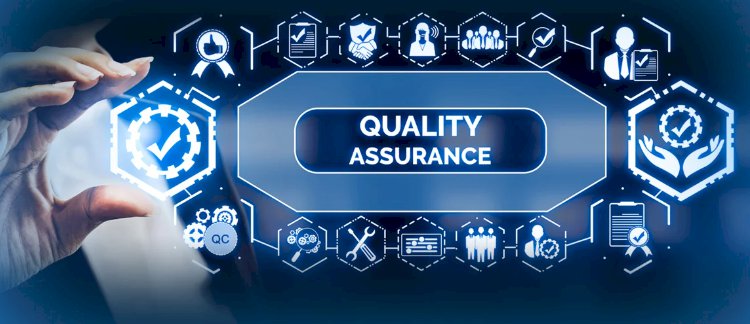 What Is Quality Assurance?
The quality assurance process helps a business ensure its products meet the quality standards set by the company or its industry. Another way to understand quality assurance (QA) is as a company's process for improving the quality of its products.
Many businesses view their QA program as a promise to internal stakeholders and customers that the company will deliver high-quality products that provide a positive user experience.
What's the Difference Between Quality Assurance vs. Quality Control?
Quality assurance is a broad process for preventing quality failures. The QA team is involved in all stages of a product's development: production, testing, packaging, and delivery. In contrast, quality control (QC) is a narrower process. QC focuses on detecting mistakes, errors, or missed requirements in a product.
The two key differences between QA and QC are:
1. QA is proactive vs. QC is reactive.
The QA team operates proactively. They seek to uncover and address the sources of quality problems, such as human error or a business using the wrong materials. Whereas the QC team is reactive, checking the product for mistakes or components not built to specification.
Here is another way to understand this distinction: QC seeks to catch quality errors, while QA seeks to uncover and fix the issues that lead to quality errors.
2. QC takes place after development, while QA is ongoing.
The QC team performs their tests after the product team has built the product. So they are looking only to catch errors and bugs before the company makes the product available to customers. On the other hand, the QA team is working throughout the development process, making sure each aspect of the product is on track to deliver a high-quality customer experience.
Maintain Call Quality Standards
Call quality monitoring practices soft-wire the skills in call center agents overtime in a manner that it becomes a part of their approach. Their approach towards solving important queries becomes more proactive and different areas like answering customer questions; handling irate customers; acknowledging customer feedback; being empathetic are handled in standardized manner across the team.
Adhering to Compliance
There are certain guidelines that call centers need to follow while handling customer interactions to ensure customer privacy and security. Quality monitoring calls for maintaining strict compliance standards and assuring that customer data is secured and call center agents are implementing all the requisite steps to adhere to the compliance.
Boost Customer Experience
When customer service is seamless and customers get quick and helpful assistance from the service agents, their overall experience with the brand is boosted. Quality assurance helps brands to maintain a consistent level of services over a period of time at each touchpoint throughout the customer journey.
Learn how NOT to compromise on Call Center operations while Working from Home
Reinforce Customer Retention
Cost of Acquiring new customers is far higher than retaining the existing customer. Call center managers understand this fact, and ensures quality service is delivered to the customers to avoid them from switching to competitors. Quality assurance puts customers on the highest priority thereby ensuring retention.
Better Call Center Quality Assurance Metrics
When service agents are monitored closely, the call center quality metrics tend to improve automatically. This said, you can't improve what you cannot measure. Hence measuring call quality metrics is a crucial aspect of call center quality assurance. Tracking these key metrics overtime surely improves service performance.
How Can you Improve Call Center Quality?
Customer interaction management is crucial for all call centers. The customers decides whether to continue her association with a brand or switch to a competition based on how their issues are handled and interactions are managed. Therefore, it is important for businesses to put the right call center quality assurance guidelines and tools in place to focus on customer retention and manage effective interactions.
Call Center Quality Assurance Best Practices
-Focus on Complete Caller Experience – Call center managers must listen to the complete conversation between the agent and the customer in order to measure the agent's performance properly and judge the call quality. The manager should assess if the call can be categorized as a quality interaction.
-Ensure Problem Resolution– The customers are calling for some purpose and need a solution to their problems. The agents should take complete ownership of the call and try their best to resolve the issues, even if it requires them to transfer the call to another department or escalate the call to a supervisor.
-Agent Engagement is Must Quality Evaluation Process – Agents should have a complete knowledge of the metrics and targets on which they will be evaluated. Whether it is adherence to scripts, average handling time or first call resolution, they must be aware of what a quality interaction constitutes of. They should be presented with live demos to gauge an in-depth understanding of a good, average and a bad call. The managers should ask the agents about their constraints and issues and ask for their feedback about the practices that are being followed in the team.
-Promote Self-Assessment for Agents – Agents must be allotted with a period of time each week to evaluate their own calls. They should listen to their calls and analyze their performance on the basis of quality of service and customer satisfaction. This will enable them to learn from their own mistakes and improve communication and service skills.